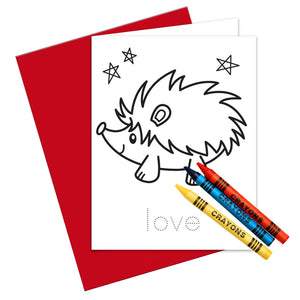 cards for kids to color...
Adorable and eco-friendly, too! Our exclusive brand of 100% recycled stationery is for kids to color, trace the word, and create their own notes and greeting cards. Designed, printed and assembled in our Portland studio.
shop for cards + stationery
a family favorite...
Crayon Rocks are made from natural waxes and non-toxic mineral powders. The unique pebble shape is easy to hold and the colors are creamy and vibrant. We love to give these as gifts!
shop for crayon rocks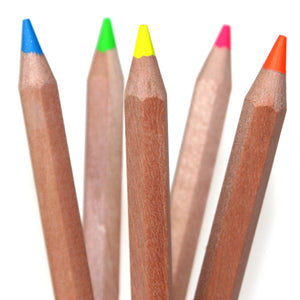 big impression, little impact...
Millions of plastic highlighters are used each day and they're nearly impossible to recycle. We have a solution you can feel good about: our eco highlighter pencils are biodegradable, long lasting, will not bleed, leak or dry out and this one small choice can make a big difference.
shop for eco highlighters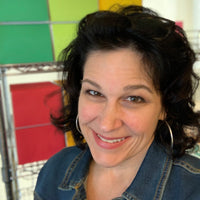 meet the mom...
It all started with a thank you note. In 2006, my twins turned two and I looked for simple cards to send as thank you notes for gifts. Nothing seemed to fit, so I designed cards for the girls to color and I wrote the note inside - everyone loved them and Stubby Pencil Studio was born.
It's been over 15 years, and Stubby Pencil Studio has grown and changed, yet continues to offer a unique collection of our favorite art supplies, along with classes and demos in our store. We love helping others discover new materials that are safe and fun to work with and look forward to seeing you soon!
happy customers
I buy our art supplies from a variety of places, both locally and online. One place I return to again and again is Stubby Pencil Studio, for the quality of the art supplies offered and because of the eco-friendly focus.

Jean Van't Hul, The Artful Parent
If there's anything that can trump our love of school supplies, it's our love of art supplies. And art supplies that are also environmentally friendly? And reasonably priced? We're there. Stubby Pencil Studio satisfies your longing to be green without sacrificing quality (or cuteness).

Tammy Everts, Apartment Therapy
I'm going to mail these to my grand kids during this social distancing to let them know I'm still thinking of them. They can color them and show me on Facetime. Or maybe mail them back. I love that the cards are eco-firendly, made in the USA and have a place on the back to write the child's name and the date. I'm sure I'll be buying more of these.

Homeschool Mom
I not only LOVE the product I purchased but I also LOVE that it is MADE IN AMERICA! More of this!!! The products I received are so much more than I even hoped for! I will absolutely return and purchase ALL of my stationary needs from this store!!! Keep up the wonderful work & the beautiful USA MADE products!

Amanda
These guys rock. Often order for quick gifts. Shipping is quick, and items well wrapped.

Mirta
This is my 2nd order - I hesitated to purchase at first because of the price, but they are definitely high quality. The 1st set we gave out with birthday party favors. My daughter uses her pencil all the time and I wanted to have more on hand. They sharpen very well, and the lead hasn't broken off on us once. The included pencil sharpener is great and we use it a lot, too.

Annelise