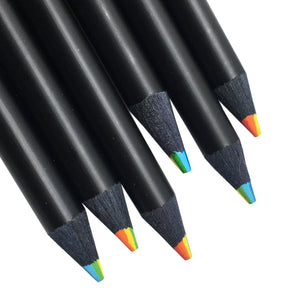 It's a rainbow frenzy! These unique rainbow core pencils write, draw and color in 7 colors.

So fun and creative - it's different every time. Write thank you notes and messages - the rainbow colors will brighten everyone's day!

Create amazing works of art and drawings like never before. Amazing for adult coloring books!

Made from cedar wood, dyed black, these striking pencils are very high quality and comfortable to hold. 

Each pencil is the same color combination: red, orange, yellow, green, aqua, blue, and purple) perfect for party favors, gifts for teachers, Easter baskets, stocking stuffers, or any other occasion.